(1) OPD (Out patient department)
The Hospital has eight OPD & OPD timing for all OPD are 9:30 A.M. to 3 P.M. We provide specialist doctors for respective departments.
Kayachikitsa OPD (Medicine OPD)
Panchkarma OPD ( Detoxification of body)
Shalya OPD (Surgery OPD)
Shalakya OPD (Eye OPD)
Shalakya OPD (ENT OPD)
Balrog OPD (Pediatric OPD)
Prasuti & Strirog OPD (Gynecology & obstetric OPD)
Swasthrutha OPD (Yoga & Nutrition)
(2) O.T. (Operation theater)
Hospital has operation theaterunder Shalyatantra department (surgery department) which include minor OT & major OT.
In minor OT cleaning & dressing of injuries are done.
In major OT, all operative cases for example Ano-rectal diseases, Ksharsutra, Appendectomy etc Surgeries are done.Our OT is well equipped according to norms & provide centralized oxygen facility with cardiac monitor and Anaesthesia trolley.
Shalakya OT : We have shalakya OT & operations of eye and ear are done here.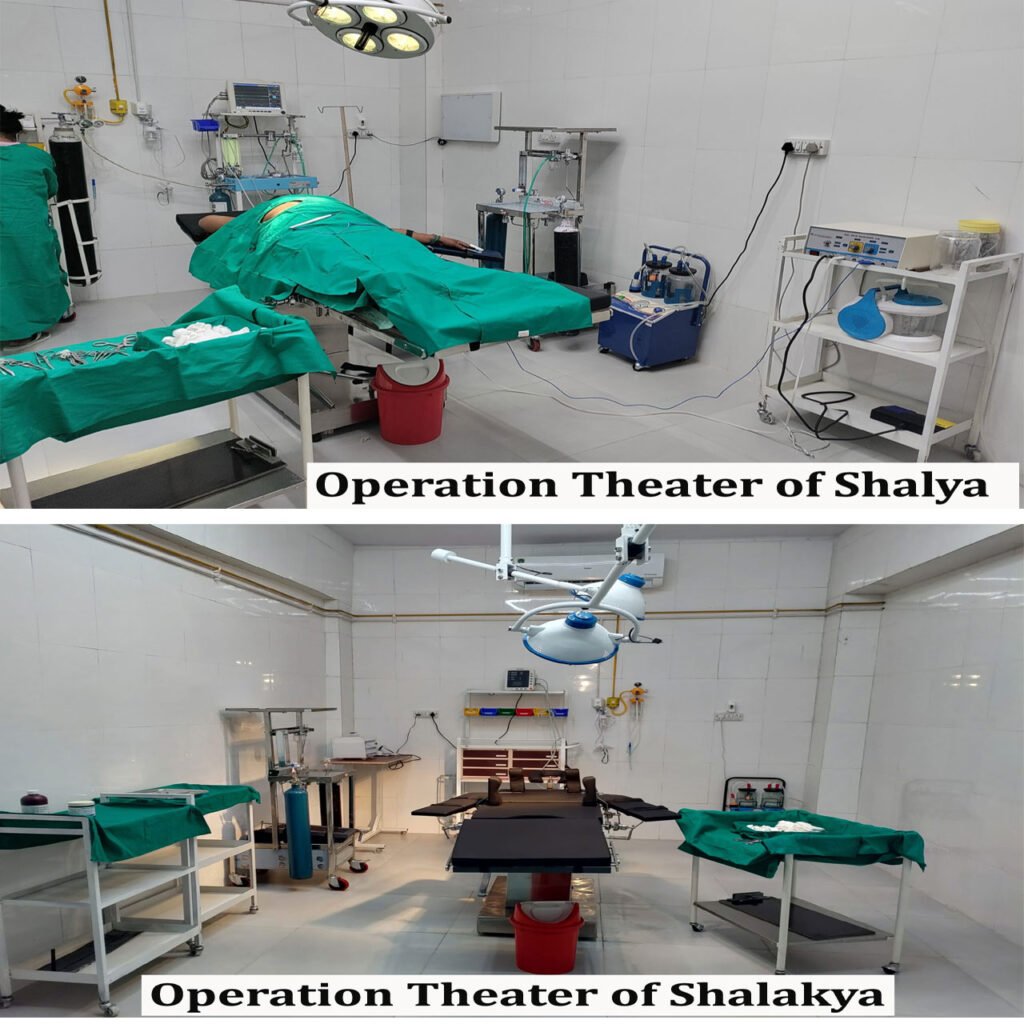 Our hospital havelabour room under Striroga and prasutitantra department. The labour room have cardiac monitor, central oxygen supply, suction machine, foetalDoppler, Anaesthesia trolley.
Hospital have x-ray machine. We are doing following x-ray in OPD timing.
X-ray knee Joint.
X-ray shoulder Joint.
X-ray chest PA view.
X-ray chest AP view.
X-ray elbow/wrist Joint.
X-ray Hip Joint.
X-ray Ankle Joint.
X-ray cervical region.
X-ray lumber region.
X-ray of fracture bone area.
Hospital have 2 ECG machines.One present in casualty OPD which is open for 24 hrs and another one ECG machine is present in ECG room for OPD and IPD patients.
Panchakarma is a detoxification process includes Vamana, Virechana,Basti, Nasya & Raktamokshana. It helps detoxify body of patients and relief from diseases. Our Hospital has separate section for male and female panchakarma and provide expert doctors for proper procedure of panchakarma and forconsultation. Panchakarma (five actions) is a cleansing and rejuvenating program for the body, mind and consciousness. It is known for its beneficial effects on overall health, wellness and self-healing Panchakarma is used for detoxification of body and to bring the doshas of body in equilibrium.
Hospital has a pathology lab under Rognidan and Vikrutivigyan department. It has two section :
Pathology & collection center.
Biochemistry Lab.
Many pathological test are done here which is mentioned in following table.
| | |
| --- | --- |
| S.NO | INVESTIGATION |
| 1 | HEMOGLOBIN |
| 2 | Hb, T&D |
| 3 | PH |
| 4 | CBC |
| 5 | ESR |
| 6 | BLOOD GROUP |
| 7 | MP BY PERIPHERAL BLOOD SMEAR |
| 8 | MP ANTIGEN CARD |
| 9 | PS – COMMENT |
| 10 | WIDAL |
| 11 | HIV |
| 12 | HbSAg |
| 13 | HCV |
| 14 | VDRL |
| 15 | FBS |
| 16 | P.P.B.S |
| 17 | RBS |
| 18 | LIVER FUNCTION TEST (LFT) MINOR |
| 19 | LIVER FUNCTION TEST (LFT) MAJOR |
| 20 | KIDNEY FUNCTION TEST (KFT/RFT) MINOR |
| 21 | KIDNEY FUNCTION TEST (KFT/RFT) MAJOR |
| 22 | LIPID PROFILE |
| 23 | SGOT |
| 24 | SGPT |
| 25 | CREATININE |
| 26 | UREA |
| 27 | URIC ACID |
| 28 | CHOLESTEROL |
| 29 | TRIGLYCERIDE |
| 30 | SODIUM |
| 31 | POTASSIUM |
| 32 | CRP LATEX |
| 33 | RA FACTOR LATEX |
| 34 | ALKALINE PHOSPHATASE |
| 35 | URINE ROUTINE & MICROSCOPY |
| 36 | STOOL ROUTINE & MICROSCOPY |
| 37 | BLEEDING TIME |
| 38 | CLOTTING TIME |
| 39 | URINE PREGNANCY TEST (UPT) |
| 40 | PT INR |
8.Central Oxygen Facility:
Central oxygen facility are available in OT & Labour room. Oxygen Cylinder are available in all 6 wards and emergency OPD.
We are running 100 bedded Hospital and we are provided oxygen cylinder facility, canteen facility, IPD medicine facility for IPD patients.
Bed distribution
Sr.No.

Bed Department

Male

Female

1.

Kayachikitsa

20

10

2.

P.K.

10

10

3.

S.T.

10

10

4.

Shalakya

03

02

5.

PTSR

15

6.

Balrog

10
Emergency OPD is open for 24 hrs. Emergency OPD is well equipped with proper emergency medicines. We have ECG facility in emergency OPD for 24 hrs with O2bed.
11. Covid – 19 Vaccination :
We having government approved covid-19 vaccination center. We did very good job in 2021. We having expert doctors for observation of vaccinated patient and trained nursing staff for vaccination. Emergency OPD is also available to treat any emergency during covid-19 vaccination program.
Hospital has physiotherapy department physiotherapy helps through physical rehabilitation, injury prevention and health with fitness. Physiotherapist get you involved in your own recovery.
Sonography is a diagnostic medical test that uses high frequency sound waves to bounce off of structure in the body and create an image. It is done during OPD timing 9:30 AM to 3 P.M. It is useful in diagnostic of pregnancy, PCOD, renal calculi, fatty liver, Hepatomegaly, splenomegaly liver abscess etc.
14. Yoga and Diet Management :
Yoga and diet management comes swasthyarakshan department. Yoga is a group of physical, mental and spiritual practices or disciplines which originated in ancient India. In our hospital diet management and yoga advised for not only healthy people but also people suffering from various diseases. Diet management is a practice of providing nutritional options for everyone.
15. Following Essential Facilities Are Available In The Hospital :
Radiology department including X-Ray, Sonography, E.C.G. and Color Doppler
Pathology Laboratory
State – of – the – art Operation Theatres.
Family Planning and Welfare Center
Mother & Child Welfare Center
A 7 bedded state of art Neonatal Intensive Care Unit
Ambulance Services
Round the clock treatment for the patients & nursing care
Ayurvedic & Modern Pharmaceutical Shop
24 hours Emergency services
R.N Kapoor Memorial Ayurvedic
Medical College & Hospital
Indore M.P.
R.N Kapoor Memorial Ayurvedic Medical College & Hospital Indore M.P.is affliated to Dr. APJ Abdul Kalam University, Indore (M.P.). The hospital's mission is to help the underprivileged and needy by offering them completely free medical care. Since its establishment, our hospital has offered many patients with low incomes free procedures, medication, and lodging. Our hospital accepts patients from any source, who are impoverished or from the lower sections of society.
When there is an emergency, our hospital instantly accepts the patient and offers all "Essential Medical Facilities" for all life-saving emergency procedures and treatments up until stabilization.
The Hospital provides following non billable services free to the indigent patients as well as weaker section patients:-
1)Bed
2)RMO
3)Food
4)Linen
5)Water
6)Electricity
7)Routine Diagnostics as required for treatment of general specialties.
8)House Keeping Services.
Patients who are in need will receive free medical evaluations and care from every area of the hospital. The bill for the patient who is impoverished is created using the lowest class rates for the particular hospital. The hospital is billed the full purchase price for the drugs, supplies, and implants.
Our Hospital does not ask for any deposit in case of admission of indigent patients.
In case of weaker section patients, our Hospital provides medical examination and treatment in its each department at concessional rates. The weaker section
patient's bills of billable services are prepared at the rates applicable to the lowest class of the respective hospital.
The medicines, consumables and implants are charged at the purchase price to the hospital, however the weaker section patients pays at least 50% of the bills of medicines, consumables and implants.
Medical camps and free medicine distribution are conducted from time to time in the nook and corner of the city.
Thereby R.N. Kapoor Memorial Ayurvedic Medical College & Hospital provide holistic health care to adapt to the fast-paced urban lifestyle in a symphonious manner.